We Build Mobile App Solutions
Focused on Small Business designs!
Have a Smartphone? Your customers do! We will build you a beautifully designed Mobile App, publish it to the leading app stores and maintain your content using the latest technology. Engage your customers, increase loyalty and grow your business.
Your Business deserves a Mobile App.

Small Businesses are creating Mobile Apps at an unprecedented pace.
Are you interested in increasing sales? Do you want to reduce your marketing costs? Would you like an easy, effective, and inexpensive method for engaging with current, past, and future customers?
Take a look at the stats….
– Over 50% of internet usage now takes place on mobile devices – not computers.
– Smartphone owners spend 90% of their online time on mobile apps, rather than on browsers.
– 79% of smartphone owners use apps every day.
– Smartphone users spend 5 hours on their mobile devices per day*, mostly on apps.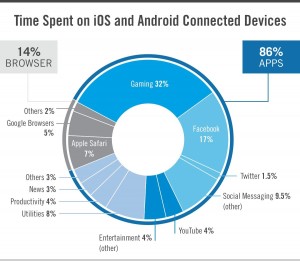 Take Action, and build your own App NOW. Here are 4 more reasons why…
It boosts interest & sales.  When you develop an App, it gives you an easy way to showcase your business.

It provides a direct marketing channel.  Apps serve many functions: they can provide general info, prices, booking & order forms, search features, user accounts, messengers, news feeds, and much more.

It enhances engagement.  Most shoppers cannot resist the temptation of a good deal or great discount. You can share specials and events, create loyalty, and increase sales, as often as you'd like without incurring any cost.

Stand out from the competition.  Large companies have already developed their apps. Small to medium size businesses are creating their own apps at an increasingly rapid pace. A first-mover advantage is critical.
Own a Beautiful Mobile App Your Peers Envy, and Your Competitors Want to Copy!
Our Premium Small Business Service Can Help Your Business Engage Your Customers Like Never Before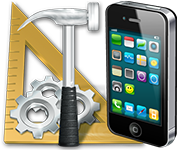 The App +
We design, publish and maintain your app on the leading platforms: iOS and Android. For premium features, we will give you access and train you on how to manage them.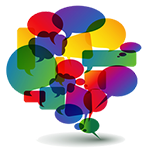 Graphics +
Simply Beautiful! We'll use your logo and other business elements to design all the necessary graphical content needed for your mobile app.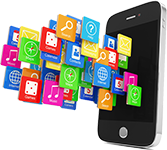 Enjoy Your New Mobile App!
Rewarding features! We publish your newly designed mobile app to the world! You now own a smartphone application that you can be proud of.
We're Innovative – lots of features.
Website link
Link to your website's home page or specific pages, such as your menu.
Feedback Form
Get feedback from your customers with a customized feedback form within your app with results emailed directly to you.
Weather
Show the current weather and forecast at your location.
Map & Directions
Show your business location on a map with the option for directions via Google Maps integration.
Event Calendar
Include all of your businesses events inside of your application. Keep customers informed on the go.
Contact
Your customers can contact you by phone or email directly from your app.
Videos
Show your YouTube or Vimeo video channel right within your app.
Image Gallery
Display images of your business in a gallery in the app.  Or, link to your social media image feed.
Push Notifications
Send messages to your customers to inform them about upcoming specials and events.  Send immediately or schedule for specific dates and times.
Tip Calculator
Include a tip calculator inside your app to help customers quickly calculate a tip amount for one or any number of people to split.
QR Coupons
Create QR enabled coupons for your customers to redeem at your business by scanning a specified QR code.
Loyalty Card
Create your own customized digital loyalty cards and passwords for individual employees to apply points.
Surveys
Customized surveys with results sent instantly to you by email.  Options include radio buttons, check boxes, text fields for detailed responses, option to contact the customer and logic triggers based on answers to survey questions.
Facebook Integration
Integrate your Facebook page to connect with your customers through their favorite social media sites.
Twitter Integration
Integrate your Twitter page to connect with your customers through their favorite social media sites.
News Wall
Keep your customers up to date on your latest news and events with your own news wall.
Job Listings
List jobs available in your business and allow candidates to respond and apply within your app.
Fan Wall
Allow your customers to interact with you on your "fan wall."
GET YOUR OWN APP FOR YOUR BUSINESS
If you think that mobile apps are solely for big name brands like Walmart and Bank of America, you are wrong. More and more small and midsize businesses are following the mobile trend, understanding that an effective mobile strategy involves more than just a mobile-friendly website.
In fact, these days you'll notice that many small businesses you interact with in your everyday life have their own dedicated mobile app — be it the corner coffee shop or the beauty spa downtown. These companies are ahead of the game when it comes to taking their marketing to the next level.
In case you are still not sure why anyone would want to build their own mobile platform, here are the top benefits of going down this path sooner rather than later.
1. Be Visible to Customers at All Times
Statistics show that the average Smartphone owner spends more than five hours a day on his or her mobile device. While probably only a handful of applications make up the bulk of this total usage, it doesn't change the fact that each user has to unlock, scroll, and scan their device for the apps they're looking for. Being "in the way" can be an advantage to your company, as our mind unconsciously does record every image and text (or well-designed app icon) it comes across – even if it happens unnoticed.
2. Create a Direct Marketing Channel
Apps serve many functions: they can provide general info, prices, booking forms, photos and videos, surveys, event calendars, news feeds, and much more.
One of the biggest benefits of having a mobile app is that all the information you'd like to provide to your customers – including special sales and promotions – is right at their fingertips. Through push notifications you're getting even closer to a direct interaction, and can easily remind customers about your products and services whenever it makes sense.
3. Provide Value to Your Customers with a Digital Loyalty Program
Talking about on-hand information, how about digitalizing that loyalty program you have in place? Instead of sticking to the old point-collection card, make it possible for your customers to collect their rewards via your mobile app. The result? More downloads and more return customers.  Make a true and sincere connection with your customers, and a loyal lover of your product and/or service. It can be a way of staying closer to your customers, and being just a "fingertip" away at all times.
4. Build Your Brand and Recognition
A mobile app for your business can greatly contribute to your brand awareness. Let's break this topic down into two aspects, the combination of which will make your app a true winner:
Brand. A mobile app is like a blank billboard sign. You can do what you want with it; you can make it stylish, hip, functional, shocking, or informative. But what you really want to do is create an app that has features your customers will love, while at the same time is well branded and beautifully designed.
Recognition. The more often you can get customers involved with your app, the sooner they will be inclined to buy your product and/or service. In advertising this is called the "effective frequency."  As a rule of thumb, hearing and/or seeing your brand approximately 20 times is what will get you truly noticed.
5. Stand Out From the Competition
These days mobile apps at the small business level are still rare, and this is where you can take a big leap ahead of your competitors. Be the first in your neighborhood to offer a mobile app to your customers, reserving your name on the Google and Apple app stores.  They'll be impressed by your forward-thinking approach!